Want to know more about Fish.Net or the work we have done recently? We've gathered all our latest articles and reviews below - please browse at your leisure.


A Great Run
Congrats to Chris for a Great Manchester Run!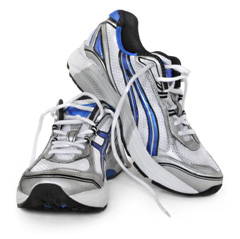 We'd like to congratulate our resident Systems and Networking expert Chris Carter, who yesterday completed the 10km Great Manchester Run 2011.

Chris ran in aid of Sands - the Still and Neonatal Death charity - in memory of his first born son Jacob.

Finishing a creditable 25745 out of the 35000+ runners, Chris completed the run in 1 hr and 18 minutes. He's expecting the muscle pain to recede by the late summer.

It's the 5th time that Chris has taken part in the run. He's raised £200 for Sands so far this year and over £1700 in total. It's not too late to add to this though, so head over to his Just Giving page to donate - don't forget to Gift Aid it!

www.justgiving.com/jacobcarter5
Grandpa Greene's Luxury Ice Cream - It's ICEtastic!
Saddleworth-based ice cream maker launches new site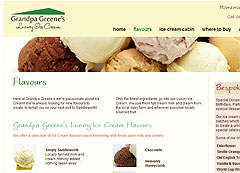 Back in the 1920s Grandpa Greene made his Ice Cream in a wooden churn at the back of his corner shop in Salford.
Today at Grandpa Greene's they have taken his basic recipe and developed it into a luxury ice cream homemade in Saddleworth, in their own special way.
Here in the Fish.Net offICE our mouths were made to water by some of the magnifICEnt creations that Grandpa Greene's have brought together.
We've used every devICE to create something that would reflect the quality of their Luxury Ice Cream.
This website now shows off all that Grandpa Greene's have to offer including; their flavours, where to buy, becoming a stockist and even 'the perfect day out'.
You can visit the site at www.grandpagreenes.co.uk.
Fish.Net - nICE people to do IT with!
Ashworth Electrical launches new site
Oldham-based Electrical Contrators celebrate launch of new site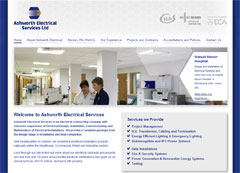 Ashworth Electrical is celebrating the launch of its new Web site, designed and developed by Fish.Net.
The Oldham-based electrical contractoring firm had long realised that their good track-record in a variety of sectors was not represented on its Web site, so turned to Fish.Net to reinvigorate its Web presence and further raise awareness of the company.
The result is a site to be proud of. Focussing on three areas, the site specifically targets the areas the company would to continue to work in, shows the process and services for the jobs they undertake and demonstrates their expertise via a series of case studies.
On-page content has been optimised for search engines visibility, helping prospects and existing clients easily find the site, backed up with clear navigation to aid them around it.
You can visit the site at www.ashworthelectrical.co.uk.
Web Masterclass
Helping businesses in and around Oldham
Fish.Net has helped small and medium businesses in the Oldham area harness the potential of the Web in a series of Web Marketing masterclasses.

Held in conjunction with Winning Pitch, the Masterclasses guided delegates through the maze of the Internet, from making sure their Web site is up to scratch to exploring different ways of reaching out to new clients such as email marketing, paid search advertising, SEO and social networking.

It was a pleasure to talk with all the delegates who attended, and we've had some great feedback. You can find out more about the Masterclasses at our special site:

http://webmasterclass.fishnet.co.uk/

If you would like to further explore the possibilities of reaching out via the Web, call our Web team on 01457 819600, or send us an email.
Spring Clean for the Saddleworth Hotel
Fish.Net spruces up the luxury hotel's site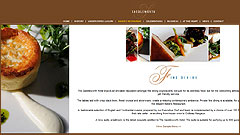 Fish.Net has given The Saddleworth Hotel's Web site a spring clean.

Anthony Baker, owner of the luxury hotel located in the beautiful Castleshaw Valley, just minutes away from Fish.Net, wanted to add some rich elements for site visitors to interact with.

We duly obliged by adding sliding picture panels, giving a glimpse of the sumptious hotel and surroundings and leaving visitors wanting more.

A News section has also been added, allowing staff to add new entries at any point. The site refresh coincides with the first news item - a brand new luxury ballroom suite.

Fish.Net has also optimised the site copy for search engine recognition by drawing out key phrases and presenting them appropriately.

Visit The Saddleworth Hotel >>
Romec on Fire (and Security)
Fish.Net and Romec launch Fire and Security sitelet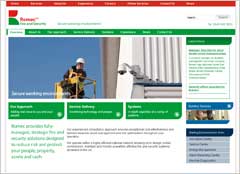 Fish.Net and Romec have launched a new Fire and Security sitelet for the Stockport-based facilities management giant.

Romec undertook a major brand refrresh earlier this year. As part of this, Fish.Net gave their Web presence an overhaul.

The launch of the Fire and Security sitelet - a self-contained web site beneath the umbrella of the corporate site - is the latest development of this brand refresh.

Reinforcing the dual branding of Romec as a corporate entity and Fire and Security as a service, the sitelet can be used in isolation, or in conjunction with the corporate site.

It features information about Romec's Fire and Security services, including news and relevant case studies.

The sitelet is fully content managed, allowing Romec to independantly update the site quickly and easily with minimal technical knowledge required.

The launch of the Fire and Security sitelet also features a number of evolutions of the existing corporate site.

Focussing on the strengths of Romec's service offerings, the evolved site features a number of cross-promotional signposts, allowing visitors to easily navigate between related pages.

The site also now features rich 'pan and zoom' animations to illustrate the company's offering.

Visit the Fire and Security sitelet.
Saddleworth Golf Club
Fore!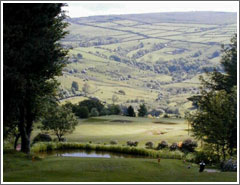 Fish.Net has completed a spring-clean of the tills and back office system at Saddleworth Golf Club's 19th hole!

Following our health check, systems were given a general spring clean and memory updates applied where appropriate.

Additionally, a wireless repeater was added to the network, so that the duty bar manager can access and manage the point of sale machine from anywhere in the bar area via a netbook computer.
Life Lessons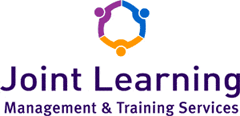 Young learners on Joint Learning Partnership's Entry to Employment programmes are now able to browse relevant web sites and use office applications, thanks to Fish.Net's configuration of a separate secure network at the company.

Using stringent group policies to lock down permissions, the network allows young learners to access permitted applications, such as Word Processors and Web Browsers, whilst restricting access to other areas of the network.

Fish.Net is involved in the ongoing maintenance of the network.
Relocation, Relocation
Ford Consulting moves office
Ford Consulting called upon Fish.Net's expertise during a recent location following expansion.

Working in conjunction with their wiring contractor, Fish.Net gave advice on the configuration and layout of network access points, switches and servers in the new office.

Office relocation can often be a testing time for companies. Fish.Net can help alleviate some of the pressure by advising on IT and telecommunications infrastructure in your new office – simply contact us to find out more.
Relocation, Relocation - Part 2
Joint Learning Partnership relocates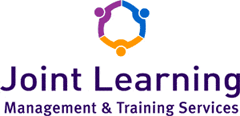 Following an acquisition by Microcom Training, Southport-based Joint Learning Partnership (JLP) has moved to new premises in the Hillside area of the town.

Fish.Net advised JLP on its network infrastructure in the two new offices – their head office and separate Young Learner e2e (Entry to Employment) office. They also implemented a VPN between the two premises, providing a secure tunnel for sensitive data to pass between offices without fear of interception.

Fish.Net also assisted JLP to adopt their IT infrastructure to fit with the new parent company's operations.
Announcing MailSpike
Fish.Net's anti-spam appliance
Fish.Net are delighted to announce the launch of Mail Spike – a robust anti-spam appliance utilising the very latest in anti-spam technology.

Available in several variations, Mail Spike can be configured to work with any mail system for a small/medium company – whether you use a POP3/SMTP or Microsoft Exchange setup. Alternatively, Mail Spike can act as a combined Mail Server and Spam Firewall.

Based on a solid open source architecture, MailSpike is a small 1U rack mounted appliance, with a low power consumption. Developed as a low-cost solution to the ever-increasing and costly problem of spam, it has been successfully tested both internally at Fish.Net and at McKellens Chartered Accountants, based in Manchester.

To find out more about MailSpike, contact us.
Spammers beware!
Another MailSpike appliance installed.
Following an influx of spam – unsolicited email clogging up email inboxes – Fish.Net has installed a MailSpike Anti-spam appliance at Emanuel Whittaker.

MailSpike – a small LU rack mounted appliance with low power consumption – uses the latest technology to combat spam, an increasingly costly problem for companies large and small.

Using a combination of open source operating systems, software and Fish.Net's unparalleled expertise in combating spam, Mail Spike has led to a dramatic reduction in spam.

Take the first step to reducing spam by contacting us today.
Lord Group energised by integration with Kinetics
Following the acquisition of The Lord Group by Kinetics, Fish.Net was approached to assist with the integration with the new parent company's infrastructure.

A new Microsoft Exchange 2007 email and groupware system was created and configured, and emails from the old IMAP server were migrated.

Fish.Net also assisted in the integration with Kinetic's hosted desktop system.
Working from Home
Fish.Net has recently set up and configured remote system access for key Emanuel Whittaker staff.

Using a secure Virtual Private Network (VPN) connection, staff can now securely access files and emails from home or other remote locations.

VPNs create a secure 'tunnel' through the Internet, allowing staff to transfer information between locations, without fear of confidential data being intercepted.

Aside form the clear business benefits of providing access from multiple locations, VPNs enable companies to provide flexible working arrangements to staff.

To find out how Fish.Net can implement a VPN for your business, simply contact us.
Email Exchanged
Translec upgrade mail server to Microsoft Exchange 2007
Fish.Net has upgraded Translec's email system to take advantage of the mobile groupware tools present in Microsoft Exchange 2007.

With smartphone and 3G technology now able to support the much-vaunted promises of mobile groupware, Translec felt it was time to take advantage of mobile email, shared calendars, contacts and task lists.

Fish.Net deployed Exchange 2007 across Translec's network and mobile infrastructure, including securing and configuring secure certificates for the mobile smartphones for key staff.
Announcing Fish.Net Online
Tech magazine for business people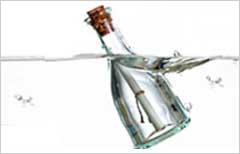 Fish.Net is delighted to announce the launch of Fish.Net Online, our online magazine covering all things Internet, IT and Communications.

Far from being an elitist rag for tech-heads, Fish.Net will digest the important news in the tech world and let you know how it will affect you.

The site will be regularly updated with news about the Web, Systems and Networks, the general business world, Software and the Internet.

Take a look today!
Fish.Net Hit for Six!
Another first-class web site from Fish.Net…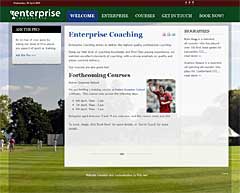 Fish.Net has put the finishing touches to Enterprise Coaching - a web site for cricket star Kyle Hogg's new sport coaching school.

We were hit for six when Kyle - a pro with Lancashire CCC, who started his career at local club Greenfield - approached us to create the site.

Kyle started Enterprise Coaching with Andrew Gleave, a talented all-rounder who plays for Cumberland CCC and Micklehurst CC.  They aim to provide high quality cricket coaching to children, promoting fitness, sport and all- round fun.

The site, sporting a distinctly Crickety theme, is fully content managed, allowing Kyle and Andrew to easily update any aspect of the content.

Kyle and Andrew were bowled over by the site - we hope you are too!

You can visit the site at www.enterprise-coaching.co.uk
Romec Rebrand and Refresh
Giant facilities management company again choose Fish.Net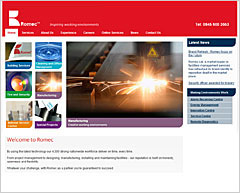 Facilities Management company Romec have once again chosen Fish.Net to refresh their web presence.

Co-owned by the Royal Mail and Balfour Beatty, Romec provide a wide range of services to an impressive blue chip client list including Marks & Spencer, the British Museum and La Poste.

The relaunched web site promotes the six broad service sectors in the form of sitelets - effectively each service has its own self-contained site within the umbrella corporate site.

The web site is completely content managed, allowing Romec's marketing department to update any part of the web site quickly and easily with minimal technical knowledge required.

Michele Hayes, Fish.Net's Operations Director, commented "Fish.Net have once again demonstrated our ability to work with large brands and to tight deadlines.  Although based in a traditional Saddleworth village, our capacity and approach to communicating via the Web compares favourably to city- based studios".

Michele continued "We're delighted with the final product, and look forward to continuing our 12 year relationship with Romec".

View the relaunched site >>
Fish.Net Portfolio Hots Up!
Pennine Geothermal Web Site Launched...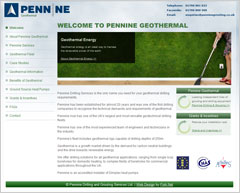 Fish.Net is delighted to add www.penninegeothermal.co.uk to its growing portfolio.

Over five years ago, Pennine Drilling and Grouting approached Fish.Net to develop its main company web site. The result was www.penninegrouting.co.uk.

The Rochdale-based company has since expanded into the geothermal drilling market, and naturally chose Fish.Net to develop their geothermal web site.

We're delighted to continue working alongside Pennine Drilling and Grouting in all aspects of IT systems and their web presence.
WomensWebWorks Enters Pilot Phase
Women Power...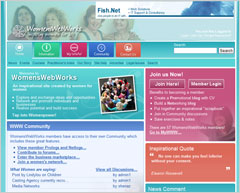 WomensWebWorks, a social networking site for business and career-minded Women, has entered into the pilot testing stage.

WomensWebWorks focuses on realising potential and building success, offering women-to-women support and networking, and inspiring women to achieve their potential through networking and action.

The Web site achieves this through interactive quizzes and exercises, blogs, forums, a Business MarketPlace, and Womens' Networks spaces.

WomensWebWorks is completely self-managed, with key personnel having the ability to manage content, contributions and advertising. The site is growing organically with its members' experiences.

Although we can't give out full access details just yet, watch this space to see when it's fully available for the public to use!
Servisair Redesigned
www.executivelounges.com relaunched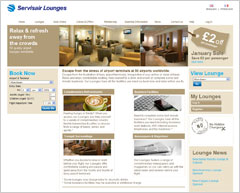 Fish.Net are delighted to complete the redesign of www.executivelounges.com, the e-commerce web site recognised at the Big Chip awards.

Servisair, Europe's leading operators in aviation ground services, yet again commissioned Fish.Net to refresh and refine the overall look and feel and booking process.

Servisair's Executive Lounges serve more than 1 million travelling passengers each year in their well equipped, stylish airport lounges.

Fish.Net is responsible for all aspects of Executive Lounges on-line presence. The executivelounges.com site provides on-line booking at over 50 airport lounges with automatic credit card clearing, booking editing, and an administrative interface for tracking customers, making refunds, setting prices.

Fish.Net also handle all aspects of e-marketing for the web site, including running targeted special offers and marketing campaigns.

Servisair's General Manager, Tim Colehan, thanked the Fish.Net team:

"The relaunch of executivelounges.com together with FishNet's excellent management of our CPC campaigns and SEO optimisation has enabled us to significantly improve revenues and sales conversions in a very short timescale.

Thanks for the effort you've all put into the redevelopment of www.executivelounges.com... a job well done"

You can view the redesigned web site here:

http://www.executivelounges.com/ (opens in new window)